The Niles Festival of Lights Parade will take place at 6:00 p.m. on Friday, November 29, 2019. The Ministry of Evangelism has entered Niles Discovery Church (NDC) in the parade. This is your chance to have a lot of fun while reaching out to the community to let them see who we are. Our purpose is to focus on issues of food insecurity and how we are helping.
Many volunteers are needed to make this outreach successful. Here are the ways that you can help:
Decorate the grocery carts. (Thanks to Tri-City Volunteers for letting us use their carts)
Develop a dance or march routine for the carts.
Develop signs, posters and flyers for the parade and for publicity. Sunday school children are making some posters.
Volunteer to be part of the parade.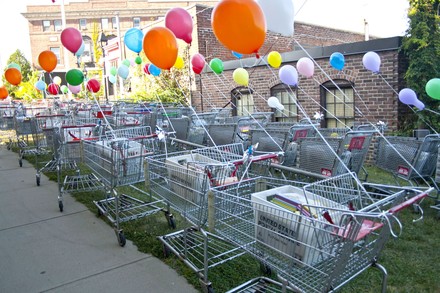 Everyone who will be at the parade is asked to wear their NDC shirt or t-shirt whether you are a parade participant or viewer.
 Please contact Jim Thomas (jim@nilesdiscoverychurch.org)  to let us know how you would like to help.