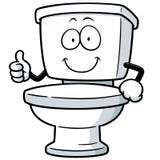 By Bill Palleschi for the Ministry of Property
We are reaching out to you, with gloved hands, to ask you to please refrain from flushing wearable hygiene garments. Our toilets, as great a flusher as you can find, cannot handle disposable sanitary items including baby diapers, Depends, etc.
The Ministry of Property is investigating appropriate receptacles that can be located inside the bathroom stalls. We are also acquiring reminder placards to add to each bathroom stall.
It costs the church several hundreds of dollars to clear a plugged toilet. The good news was that the recent blockage was confined to one toilet (see photo at right). If the blockage had gone a little further, all the toilets would have been affected.
Thank you for your time and attention to this request.